Turnkey Automatic Brine Delivery
Niagara Bottling Company, Breinigsville, PA
Situation
A Large Bottling Facility had several construction projects underway when they learned the significant cost savings and reduction in salt storage footprint that a bulk brine maker would provide and wanted to implement this project along with the others. However, adding another project seemed impossible and would risk delaying project timelines.
When they reviewed the Turn-Key installation offered by The Cope Company Salt (TCCS) for the AUTOBrine® System they felt it could be implemented without adversely affecting other projects.
Challenge
Schedule the installation to mesh with other projects, preventing delays
To not interfere with the current engineering plan
Provide cost savings, risk management and reduce environmental impact
Reduce the storage space needed for salt pallets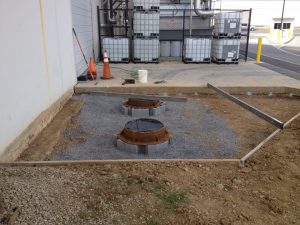 Solution
A plan was prepared by TCCS that allowed for a phased installation of the AUTOBrine® System. Working with the project manager for the bottling company the plans were approved with time slots that prevented interruption of projects that were already underway. The system was installed on the approved timetable and all projects were completed without interruption.
Results
> $12,000 Operations Cost Savings Annually
> 25,600 lbs. Carbon Footprint reduction to date
Reclaiming of 200 sq. ft. of salt storage space, estimated $50,000 value
Installation completed on schedule with no disruption to other projects, no modifications made to engineering plan, and no change order required