Salt Brine Tank Installation for School District
Hempfield School District, Landisville, PA
Situation
A School District was having repeated problems maintaining a consistent softened water supply which was damaging the boiler, dishwashers, faucets, and toilets. It was recognized that with cutbacks and an aging workforce it was difficult to keep salt in the brine day-tanks of the water softeners.
Challenge
How to ensure a consistent supply of salt for making brine
Find a safer way to handle heavy salt bags
Reduce the storage space needed for salt pallets
Reduce the equipment expense for handling salt
Maintain a secure environment for the students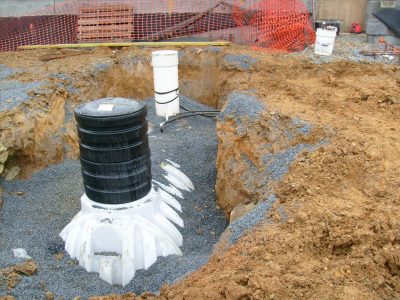 Solution
The School District installed an AUTOBrine® System on each of their campuses. The smaller version of this system allows for cost control while supplying a consistent >95% saturated brine automatically, on-demand. The brine maker is located underground, outside in a minimum security area which maintains the school's security during salt delivery.
This system has allowed the reallocation of man-hours which has made the staff more efficient with fewer people. The system also eliminated the risk of employee injury from handling heavy salt bags and having to be on-site for salt delivery.
Results
> $8,616 Operations Cost Savings Annually
> 13,424 lbs. Carbon Footprint reduction to date
Fully saturated brine is delivered on-demand
0 injuries related to handling salt bags
Eliminated equipment expense and need for an employee on-site to receive, store and handle bag salt
Outside salt delivery eliminated facility access to deliver salt and maintain a secure environment