Brine Tank for Multiple Connections
McNeil Consumer Products, Ft. Washington, PA
Situation
A large pharmaceutical company wanted to provide brine to multiple brine day-tanks of the water softeners throughout the plant. The handling and storage of salt at the 15 different water softener locations was inconvenient, space- consuming, labor-intensive and often resulted in inconsistent brine supply. Additionally, the preventative maintenance on the brine day-tanks to supply clean brine was costly.
Challenge
How to ensure a consistent supply of salt for making brine
Find a safer way to supply salt for the entire facility
Eliminate the storage space needed for salt pallets
Ensure clean brine in day-tanks of each softener
Results
> $32,000 Operations Cost Savings Annually
> 70,000 lbs. Carbon Footprint reduction to date
Eliminated the need for 480 sq. ft. salt storage space, resulting in a savings of $120,000
Eliminated the risk of workers' comp injury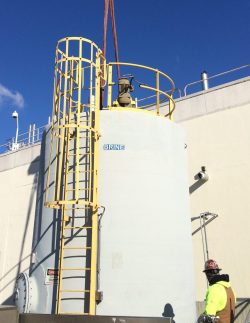 Solution
The pharmaceutical company contracted with The Cope Company Salt (TCCS) to install an above-ground bulk liquid brine system, AUTOBrine® to supply clean brine to each of the 15 softeners. The AUTOBrine® System's proprietary brine supply sequencing system allows for multiple day-tank connections from one bulk tank.
The use of industrial-grade liquid brine supplied by TCCS exceeded the requirements of the pharmaceutical company for clean brine and reduced sediment accumulation in the day-tanks that previously required routine cleaning. The brine is premixed to a >95% saturation and the on-demand system is able to supply consistent brine to all 15 softeners.